Today was the day of the Great Manchester Cycle.  13 miles of closed roads forming a loop that starts at the Eithad stadium along the Mancunian way (A57M), through Media City and past Old Trafford before heading back along the same route.
The event has 3 flavours, 13 miles, 26 miles or 52 miles… of course, I went for the 52 mile option 🙂 this also brought an additional caveat in that I was required to maintain a speed of 18MPH or faster on average to complete the course in time!  I thought what the hell and signed up anyway.
The 52 mile ride started this morning, setting off at 8:00AM with rider assembly at 7:30AM, of course I got a whole 5 and a bit hours sleep before hand :/ and probably didn't eat the best of foods, but meh don't want to make things easy for myself now do I!  I was hoping to wear just the event Jersey and my shorts, but despite the sun it was a little cold so I ended up needing my cycling jacket too.. so glad I did that!  My toes were frozen and I never really got too sweaty, not too bad a temp for the ride really (BBC Weather stated around 8 degrees C to about 12 degrees, my Garmin was saying about 13 degrees).
Once we set off the ride out was really rather enjoyable, this being my 1st ride of this type and my 1st real experience of bunches and chains.  WOW! how much fun are they!  Riding along the A57M itself is fun, but when you are doing 30MPH easily, slipstreaming off another rider or two.. awesome!  Which reminds me of another cool thing, the noise.. near silence (other than some chatting).. just the faint hum of wheels on tarmac.  I was quite pleased that I managed to get right up to the lead bunch at the start quickly and without having to push myself!  It didn't last 🙁 after the pinch point at Media City which almost has the riders single file onto a foot bridge I just lost the bunch and ended up riding solo.. and into that bloody wind, and up hill.. 🙁 🙁 :(  So this really sucked the life and speed out of me.
Thankfully after each lap I learnt a bit more and started looking for wheels to hang off of, actively chasing after a chain to sit in its slip stream.. I was quite pleased to realise I had someone slipstreaming behind me for a fair turn of the route, spurred me on a little to maintain the 25MPH I was doing!
Towards the end of the ride I was pretty tired, this was the fastest, non-stop, constant peddling ride I have ever done, my Manchester to Blackpool rides of previous years have been slower, and involved stops at lights and feed stations.  Today I stopped after the 1st lap for a loo break and that was it!  I didn't free wheel too much just kept spinning away.  Another boost to my speed and drive was switching the screen on my Garmin to show the current time and my ride time.. until that point I had been concentrating on my average speed more than anything, so had no idea of the time.  Switching to see the time revealed it was a lot earlier than I thought and indicated that I was doing better than I had thought! this really helped spur me on!
A brill day out, lots of fun, I will doing another of this I think.  Which only leaves my stats really…
I completed the full ride in 2:42:36 with splits of 42:08, 40:08, 40:39 and last lap of 39:41Â  (found a good chain that got me most of the way back 😀 )
and the stats from my Garmin via Endomondo are: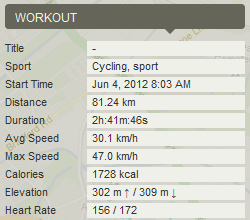 And my best distances were: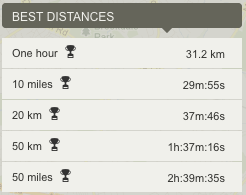 Now, I think I'll go have a bit of a rest 🙂